The Fed continued to raise interest rates to tackle inflation

Stocks remain in bear market territory

Bonds yields at highest levels in over a decade
The third quarter was a tale of two halves. During the first half, stocks rallied sharply off their June lows, recovering over half of the year-to-date decline. Investors hoped inflation had peaked and that the Federal Reserve would soon pause their aggressive plan of action. During the second half, stocks retraced that path back to new lows as inflation continued to overstay its welcome. Geopolitical tensions, including the conflict in Ukraine and China's zero-COVID policy, continued to cause concerns over global growth and inflation. Nevertheless, corporate earnings and continued strength in the job market remain bright spots in the economy. As usual, negative news stories seem to far outnumber the positive ones. For investors buffeted by these short-term negatives, having a solid financial plan and a disciplined investment strategy helps them look past the short-term ebbs and flows and maintain the long-term perspective so critical to investment success.
Economic Review & Outlook
In an eventful year for the economy and markets, the story of the year continues to be inflation. After a nearly forty-year hiatus, inflation has returned to levels not seen since the 1980s. Investors have been eager to see signs that the Federal Reserve's rate hikes are beginning to turn the tide on inflation. Inflation, as measured by the Consumer Price Index, retreated to 8.5% in July from a forty-year high in June. However, hopes for a swift reduction in inflation were deferred when core inflation (which excludes food and energy prices) continued to rise in August. One bright spot on the inflation front was a drop in gasoline prices, helped by the continued release of oil from the strategic petroleum reserve (SPR).
A key objective for the Federal Reserve has been managing the inflation expectations of consumers. When consumers make purchases today because they believe the same product will be more expensive in the near future, inflation can become a self-fulfilling prophecy. To fight that, the Fed has raised rates in each of its last five meetings, including much larger-than-usual 75-basis point hikes in each of the last three instances.
The Fed has sought to walk the fine line between damping inflation and slowing the economy to the point of recession. Recently, however, Fed Chair Powell has made it clear that taming inflation is the top priority, even at the expense of softer economic growth. Signs of softening growth are evident in the housing market as 30-year mortgages have climbed from 3.0% to 6.7% over the last year. At the beginning of the year, the monthly payment on a $500,000 house with a 30-year mortgage and 20% down payment was $1,686. Nine months later, that same payment has skyrocketed nearly $900 to $2,581. Not surprisingly, existing home sales declined year-over-year in August.
The labor market remains a continued bright spot in the economy. The unemployment rate fell to 3.5% in August, its lowest level in fifty years. With approximately two job openings for every person seeking work, wage growth has been strong, which has also contributed to inflation. As Fed rate hikes cool the economy, the labor market will likely cool too.
Overseas, Europe faces a dire energy situation as natural gas prices have soared. As winter approaches, demand for gas to heat homes will rise, forcing local governments to make tough decisions on how to allocate diminished supplies across the economy, making a recession in Europe nearly unavoidable. Despite the hardships ahead, Europe appears resolved to break their dependence on Russian energy.
Bond Market Review & Outlook
| | | |
| --- | --- | --- |
| Index | Q3 2022 | YTD |
| Bloomberg US Aggregate Bond Index | -4.8% | -14.6% |
| ICE BofA US High Yield Bond Index | -0.7% | -14.6% |
This year has seen one of the fastest and sharpest rises in interest rates on record. At the start of the year, the broad U.S. bond market (Bloomberg US Aggregate Bond Index) yielded 1.75%. Nine months later, the yield has nearly tripled to 4.75%. The huge spike in yields has resulted in the worst year on record for the broad bond market, as shown in the table above. For bond investors, the silver lining is that bonds now generate a much higher stream of income. A hypothetical $1 million bond portfolio* generated $17,500 of annual income at the start of the year. That same portfolio today would generate $47,500 of annual income, a $30,000 increase. To put it another way, an investor would need less than $370,000 in bonds today to generate the same income that $1 million in bonds would have earned at the beginning of the year. While the journey has been difficult, bonds now generate meaningful income and have a much brighter outlook going forward.
*The hypothetical bond portfolio is comprised of the Bloomberg U.S. Aggregate Bond Index and does not represent any clients' actual performance.
Stock Market Review & Outlook
| | | |
| --- | --- | --- |
| Index | Q3 2022 | YTD |
| Dow Jones Industrial Average | -6.2% | -19.7% |
| S&P 500 | -4.9% | -23.9% |
| NASDAQ Composite | -3.9% | -32.0% |
| Russell 2000 | -2.2% | -25.1% |
| MSCI All Country World Index ex USA | -9.9% | -26.5% |
Stock markets across the board are now in bear market territory. Given that, one might expect earnings to be sharply lower. However, that's not the case. In the chart below, JP Morgan divided the S&P 500's return into two components: earnings growth and multiple growth, i.e., the price investors are willing to pay for those earnings. As the chart indicates, earnings have continued to grow. The decline in equities is entirely attributable to investors reducing the multiple they are paying for those earnings.
Percent Change in the S&P 500, earnings and valuations* Year-to-date, indexed to 100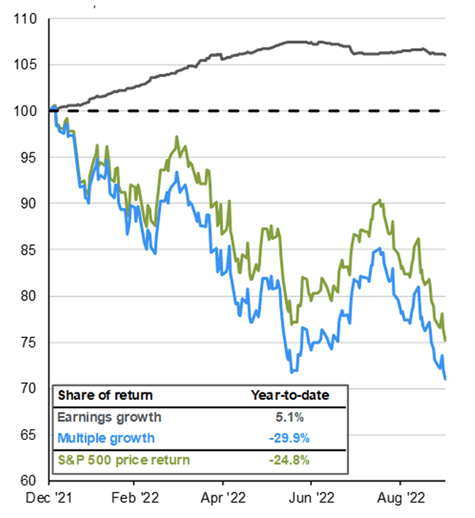 Source: JP Morgan Asset Management. Data as of September 30, 2022
Of note, most of the earnings growth this year has come from the energy sector, which highlights the benefits of diversification. At the end of 2021, the energy sector represented only 2.7% of the S&P 500. While the broader markets were still enamored with high-flying tech stocks, those who remained diversified to energy, utilities, and other "boring" sectors have benefitted this year.
Alternative Investments & Hybrids Review & Outlook
| | | |
| --- | --- | --- |
| Index | Q3 2022 | YTD |
| Alternatives (Morningstar Category) | -1.0% | -4.1% |
| Alternatives (Real Assets) | -7.8% | -16.3% |
| Hybrids (Morningstar Category) | -5.2% | -18.6% |
Alternative investments provided mixed returns during Q3 while generally continuing to reduce volatility for portfolios over the course of this year. The Morningstar alternatives category was generally flat in the third quarter, representing results from a broad group of investment approaches. After being the highest-flying commodity for much of the year, crude oil gave back some of its gains in Q3 while remaining up for the year. Hybrid managers, who primarily invest in a mix of stocks and bonds, generated returns in line with the equity and bond markets.
Commercial real estate remains one of the most intriguing areas of the alternative investment landscape, given the current inflationary environment. Real estate, particularly through private investment vehicles, has performed well in 2022 due to rising property values and escalating lease payments. In periods where stocks and bonds have both lagged, alternative investments have provided a ballast for portfolios seeking the additional diversification that this asset class provides.
Conclusion
After nearly nine months from hitting the last high in the S&P 500, it can be tempting to want to change things up. From the "experts" on TV to that newsletter recommended by your neighbor, all imply the same message – the portfolio that previously succeeded is no longer working, and a new direction is therefore needed. After all, this is sensible advice that we've learned since childhood. Face your problems head-on. Trust your gut. Action is always better than inaction.
It's only in investing that this normally sound guidance is ill-advised. It's only in markets where your gut tends to deceive rather than help, where changing things up can temporarily relieve stress but at a large cost to your long-term capital. History shows that many of the best days in the market occur during downturns, and this handful of days can have an outsized impact on long-term returns. Markets usually recover, and stocks tend to rebound long before the world around us does. As Vanguard chief investment officer Greg Davis recently wrote, "It pays to remain invested and balanced when it is most difficult to do so."
The statements and opinions expressed herein are subject to change without notice based on market and other conditions. The information provided is for informational purposes only and should not be construed as investment or legal opinion. Please consult a tax or financial advisor with questions about your specific situation. Investors may not invest directly in an unmanaged index. Past performance is not a guarantee of future returns.
Watch our advisors' thoughts on the investment markets here.



Video by segment
Follow the links below to learn about specific topics.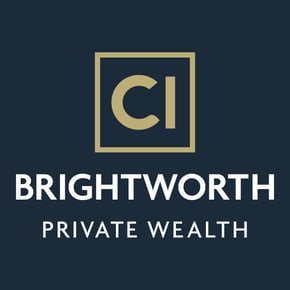 The CI Brightworth Team
CI Brightworth is a nationally recognized, fee-only wealth management firm with offices in Atlanta, GA, and Charlotte, NC. The wealth advisors at Brightworth have deep expertise across the financial disciplines, allowing us to provide ongoing, comprehensive financial advice to families across the country.