Federal Reserve is determined to bring inflation under control

Higher yields set up bonds for days ahead

Diversification is key to navigating bear market volatility
The second quarter of 2022 proved to be much like the first as markets revisited and then surpassed the lows first reached in March. The economic environment remains a mix of positives and concerns. Continued corporate earnings growth, a strong cushion of savings for households, and a strong labor market are now squaring off against persistent inflation, the Federal Reserve's actions to counter it, and concerns of a recession. While investing is more enjoyable when stocks are climbing higher and higher, it is what investors do and, importantly, don't do during times like these that lay the groundwork for long-term investment success.
Economic Review & Outlook
Halfway through 2022, inflation remains in the headlines and top of mind for investors. The Consumer Price Index's nine-month streak of higher prints took a brief pause in April before publishing a new high of 8.6% in May, now the highest level seen in 40 years. This increase in price levels continues to be driven primarily by supply shortages and higher commodity prices, the latter exacerbated by the ongoing conflict in Ukraine.
While the Federal Reserve had previously announced a plan of rate hikes which began in March, the central bank has expedited those plans with inflation unfazed. Showing unanticipated hawkishness, the FOMC increased the target Federal Funds Rate by 50 basis points in May and quickly followed with a 75-basis point hike in June, the first 0.75% increase since 1994. Testifying before Congress following this latest interest rate increase, Fed Chair Jerome Powell stressed that the Fed will do whatever it takes to bring inflation back to its 2% target.
Changes to the Federal Funds Rate can take months to reverberate through the economy, with certain facets of life able to feel the changes quicker than others. On one hand, corporate profits continue to be strong as highlighted by 6.6% earnings growth in the first six months of 2022. However, May recorded the fourth straight month of declining sales on existing homes, notably driven by mortgage rates rising to 6% for the first time since 2008.
United States Existing Home Sales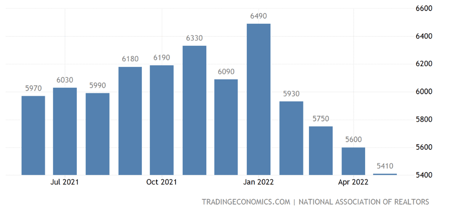 The Fed's decisive actions have also led some to worry that the central bank is pushing the economy closer to recession, a risk Mr. Powell acknowledged in late June. However, that should not be taken as a guarantee that the country will be in a recession within any given timeframe. Recessions are notoriously difficult to predict, and when they do finally occur, official announcements are unusably late. For example, the Global Financial Crisis in 2008 was not officially declared a recession until a full year after it had begun. Additionally, the stock market does not wait for recessions to begin or end, as evidenced in 2020 when the S&P 500 had already rallied over 40% from the late-March bottom by the time of the recession's official announcement that June.
Recessions can conjure up memories of the Global Financial Crisis, but have historically been much milder. And while Dickens likely would not deem recessions as the best of times, they provide several benefits to long-term stability. Recessions act as a release valve for excessive inflation, allowing prices to cool in overheated sectors. Corporations, who tend to over-hire during economic growth, reduce headcount during inflation to help weather the storm. While not belittling the personal pain that stems from layoffs, at a macro level they redistribute the workforce to faster-growing areas of the economy in need of labor, and the now-leaner corporations are able to accelerate their growth when the economy re-emerges. Additionally, many household-name companies were started during recessions, including Microsoft, Hewlett-Packard, and General Motors. No one knows when the next recession will arrive, but when it does, take solace in the cyclical nature of the economy. Cycles have both ups and downs, but over time the U.S. economy has grown.
Bond Market Review & Outlook
The fixed income market continued its first-quarter woes to round out the first half of the year. The Bloomberg US Aggregate bond index returned -4.7% for the quarter and -10.4% year-to-date – the worst 6-month return since the index's inception in 1980. Reflecting widening credit spreads, high yield bonds lagged the broader fixed income market, returning -10.0% for the quarter and -14.0% for the first six months of the year.
Given that the Federal Reserve has stated that it plans to continue to raise interest rates, does this mean another difficult six months for bonds? Two things to remember: First, the Fed's rate hikes directly impact only the shortest maturity bonds while investors and the market control the yields for intermediate and longer maturity bonds. As a result, the bond market is forward-looking, and prices in expected changes before they occur. According to JP Morgan Asset Management, the bond market has already priced in thirteen 25 basis point increases in 2022, even though only six have been enacted year-to-date. Holding all else constant, the Federal Reserve's current actions serve only to catch up monetary policy to the expectations already implied in market prices.
While the market is expecting a multitude of rate hikes to come, it's informative to note that predicting future interest rates is as difficult as predicting recessions, and Wall Street's consensus generally forecasts higher rates than those which eventually materialize. Therefore, whether by a change in Fed policy or just heightened expectations, it is possible for interest rates to fall and provide a tailwind for bonds.
A related benefit to market prices front-running the Fed is that yields have increased significantly in the first six months of the year, with a 10-year US Treasury Note now yielding near 3.0% versus 0.6% in mid-2020. This increase in yields is beneficial for two reasons. First, higher yields serve as a cushion in periods of weakness as higher income can better offset declines in bond prices. Second, bond yields and bond returns tend to move together over long periods of time. That does not mean that the recent bumpy ride in bonds is over, but it does mean bonds are more attractively positioned now than they have been in quite some time.
Stock Market Review & Outlook
After a brief respite in the last two weeks of March, equity markets sold off again in the second quarter with the DJIA and S&P 500 returning -10.8% and -16.1%, respectively. Small caps lagged their large cap counterparts, returning -17.2% as measured by the Russell 2000. The NASDAQ, impacted by higher allocations to technology and growth stocks, finished -22.3% for the quarter. Finally, international stocks slightly edged most corners of the U.S. market, logging a return of -13.7%.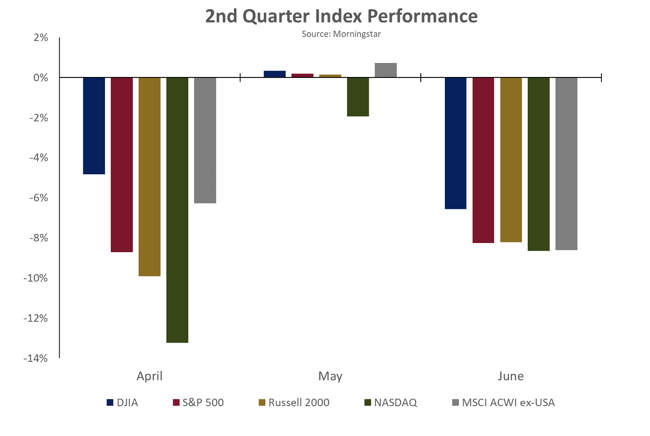 After trading near the edge for much of May, in mid-June the S&P 500 closed more than 20% below the all-time highs last seen in January, marking only the second bear market for the index since the Global Financial Crisis. Of course, the indices only tell part of the story. Twenty-four components of the NASDAQ 100 components have lost 50% or more in 2022, which is a great reminder that broad diversification allows investors to reap the benefits of equity ownership while greatly mitigating downside risk.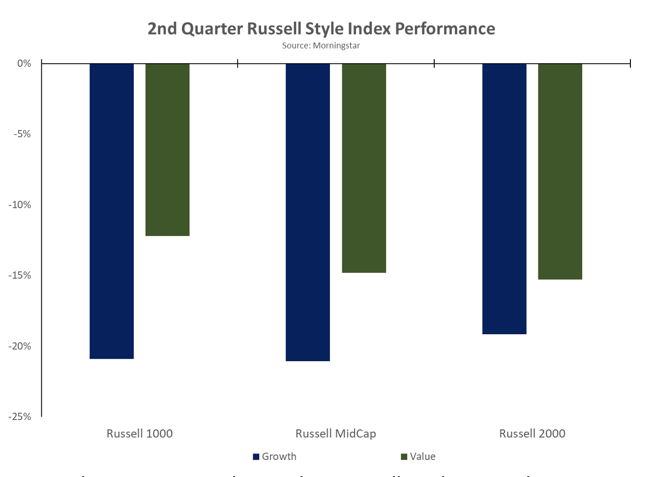 From a style perspective, value stocks across all market capitalizations continued to relatively benefit from inflationary pressures and rising interest rates over growth stocks. An additional advantage of value stocks in bear market environments is the higher tendency of value stocks to offer dividends. While stock prices rise and fall with corporate earnings and investor sentiment, dividends tend to consistently grow over time, shielding a portion of a dividend investor's returns from full exposure to the whims of market prices.
Alternative Investments & Hybrids Review & Outlook
Alternative investments were beneficial to portfolios during Q2. The Morningstar Multi-alternative Category returned -3.0% in the second quarter, representing results from a broad group of investment approaches. After a runaway start to the beginning of the year, a number of natural resources and commodities cooled off in the second quarter. Crude oil posed an exception to this narrative, continuing to rise in price on fears of global supply limitations in the wake of Russian sanctions. Hybrid managers, who primarily invest in a mix of stocks and bonds, generated losses indicative of the recent struggles in those asset classes. Meanwhile, private real estate and infrastructure were generally flat as rising interest rates have temporarily cooled the space. With traditional stocks and bonds lagging in the first half of the year, alternative investments provided diversification benefits to traditional asset classes.
Conclusion
Morgan Housel, the author of The Psychology of Money, encourages viewing volatility as the price we pay for our returns rather than a punishment or fine to be avoided. While it's certainly not fun to watch portfolio values drop, volatile periods like these are what allow investments to yield meaningful returns over the long haul. For accumulators, this market is the first sustained opportunity in a decade to make purchases at a discount to all-time highs. For those in the decumulation phase, a diversified portfolio and a well-thought-out financial plan take into account the cycles of the market and help give investors the confidence and discipline to stay on course and realize the long-term rewards of investing. To paraphrase Charles Schwab's chief investment strategist Liz Ann Sonders, it's not what you know about the stock market's future that matters. It's what you do along the way.
The statements and opinions expressed herein are subject to change without notice based on market and other conditions. The information provided is for informational purposes only and should not be construed as investment or legal opinion. Please consult a tax or financial advisor with questions about your specific situation. Investors may not invest directly in an unmanaged index. Past performance is not a guarantee of future returns.
Watch our advisors' thoughts on the investment markets here.

Video by segment
Follow the links below to learn about specific topics.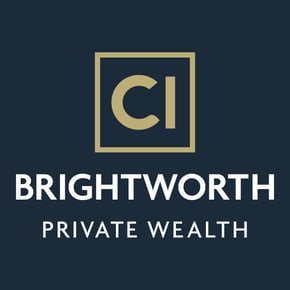 The CI Brightworth Team
CI Brightworth is a nationally recognized, fee-only wealth management firm with offices in Atlanta, GA, and Charlotte, NC. The wealth advisors at Brightworth have deep expertise across the financial disciplines, allowing us to provide ongoing, comprehensive financial advice to families across the country.