Federal Reserve begins raising interest rates

Rising rates: short-term negative, long-term positive for bonds

After an unusually calm 2021, volatility returned in Q1
After a blistering 2021 where the S&P 500 gained 28.7% and stocks seemed to rise almost every trading session, stocks declined for their first negative quarter since the initial depths of the COVID-19 pandemic. After such a strong year, it is not unusual for stocks to experience a pullback. High inflation, the Fed's commencement of raising interest rates, and Russia's invasion of Ukraine led to a correction in the S&P 500. Stocks rallied strongly to end the quarter, erasing much of the decline. While it may seem odd that stocks rebounded despite the continuation of these issues, over the long-term stocks have risen despite conflicts and wars, periods of inflation, and various economic cycles. Volatility and ups and downs in the market are normal and enduring that uncomfortable volatility is the price investors must pay to achieve the long-term returns stocks have provided.
Economic Review & Outlook
The U.S. and the global economy had strong years of economic growth last year and expectations were that growth would ease but remain very solid in 2022. The Federal Reserve expected inflation to moderate as supply chain issues were resolved and consumer spending, spurred by the stimulus provided following the pandemic, would fade. So far, things haven't worked out as the Fed expected.
Inflation came in at 7.9% for February – the highest level since 1982. Consumers are experiencing higher prices at the grocery store, the gas station, the car dealership, the housing market, and everywhere else. Strong demand coupled with continued supply chain problems has resulted in shortages in areas such as computer chips, which has led to shortages in items such as automobiles. For example, in January, 82% of buyers paid more than the manufacturer's suggested retail price for new vehicle purchases compared to just 3% a year ago, according to Edmunds.
A tight labor market has also added to inflationary pressures. For a variety of reasons including early retirement, health concerns, and childcare issues, many workers have not returned to the workforce. That has made it challenging for companies to fill their open positions. As of the end of last year, there were over 4.5 million more job openings than people looking for jobs (see chart below):
Job Openings Outpace Unemployment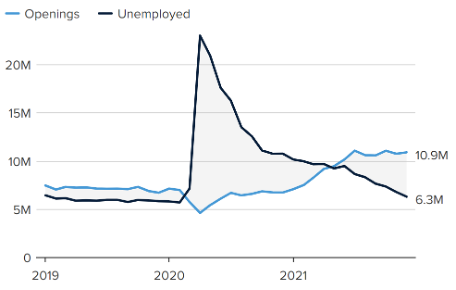 Source: CNBC, Bureau of Labor Statistics. As of December 2021.
Russia's invasion of Ukraine has also created uncertainty for the global economy. Although Russia and Ukraine are not a large part of the global economy (Russia's economy is smaller than Texas' and Ukraine's is even smaller), they are large exporters of energy, agricultural products, and metals. Disruptions of these exports will add further pressure to inflation and exacerbate the ongoing supply issues. Additionally, sanctions levied by all major economies in the West, ranging from access to capital markets and global commerce to travel restrictions, have isolated Russia, and the secondary effects of this "financial warfare" will be more fully understood over time.
In light of persistent inflation, along with unemployment continuing its decline to near pre-pandemic levels, the Federal Reserve has begun removing the accommodative policies that have been in place since the initial onset of the COVID-19 pandemic. This change in monetary policy officially began in March with the FOMC raising the federal funds rate by 25 basis points, highlighting plans for six additional rate hikes in 2022, and suggesting that larger 50 basis point rate hikes are on the table if needed.
With a strong labor market and household net worth at an all-time high, consumers enter this rate hiking cycle in strong shape. Likewise, earnings for U.S. corporations are strong and forecast to continue to grow in coming quarters. Additionally, interest rates remain at very low levels and continue to support the economy. Overall, the U.S. economy looks to be on solid footing despite the headwinds.
Bond Market Review & Outlook
The fixed income market sold off in the first quarter. Core bonds as measured by the Bloomberg Aggregate Index returned -5.9%. High yield bonds fared slightly better, returning -4.5% for the quarter. Although the Federal Reserve has only raised short-term rates by 0.25%, the yield on intermediate-term bonds such as the 2-year treasury jumped 150 basis points from 0.8% to 2.3%.
While these types of moves are rare for bonds, especially over such a short time period, they indicate the bond market is taking Mr. Powell at his word on the announced plan for raising interest rates. Said differently, even though the Federal Reserve has only officially raised rates by 0.25%, bond prices are already reflecting several additional hikes.
A rise in yields results in a decline in the price of bonds as the yield and price move inversely. However, bonds that are held to maturity will mature at their full par value. It bears repeating that while uncomfortable in the short term, higher interest rates are exactly what bond investors want in the long term. While reduced portfolio volatility is a nice feature, the primary purpose of fixed income is to generate returns, and the majority of a bond's returns come from its yield. As the market is laying the groundwork for better yields to come, a continued allocation to bonds is both a prudent and opportunistic decision for the long term.
Stock Market Review & Outlook
While all corners of the equity markets sold off in the first quarter, large cap stocks held up best with the DJIA and S&P 500 returning -4.1% and -4.6%, respectively. Small caps lagged their large cap counterparts, returning -7.5% as measured by the Russell 2000. The NASDAQ finished -8.9%, reflecting the struggle that growth stocks have faced thus far in the year. Finally, international stocks landed in between these U.S. indices, logging a return of -5.9%.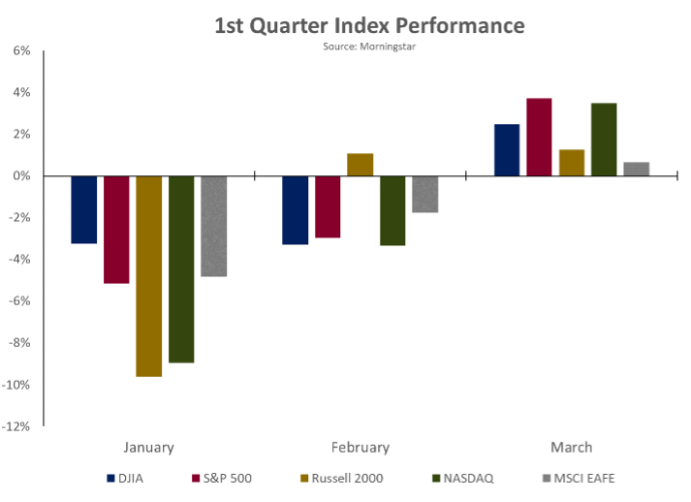 While it remains noteworthy that this was the first quarter since Q1 2020 that the S&P 500 experienced a negative return, the path taken felt bumpier than the quarterly return would indicate. The S&P 500 pulled back almost 13% from its highs at the beginning of the year before rebounding nearly 9% in the last two weeks of March.
That the market has not experienced volatility like this in several years may lead some to believe that this is an extraordinary period for stocks. It is not. The S&P 500 has historically experienced an average 14% decline at some point each calendar year. However, the largest drawdown in 2021 was only 5%, barely a blip in the action. The market volatility experienced thus far in 2022 is therefore much more "normal" in a historical context, even if that normalcy is more volatile than our recent experiences. While we do not know the future, this recent bout of volatility is a terrific reminder for investors to reevaluate their portfolio allocations and diversification levels to ensure their portfolios can manage any choppy waters ahead.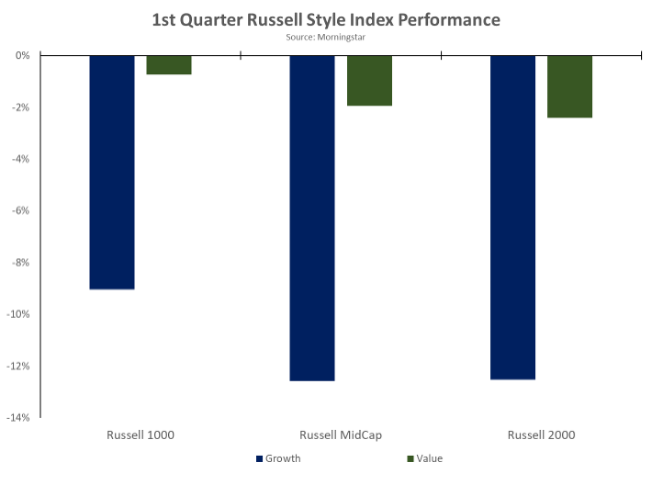 From a style standpoint, value stocks reigned supreme in the first quarter and outpaced their growth counterparts across all market capitalizations. Value stocks have historically performed better than growth stocks in inflationary environments due to inflation and higher interest rates increasingly discounting the future expectations that growth stocks rely on. However, inertia is a powerful force, so it remains to be seen if value can hang on to its newfound strength or if growth stocks will resume the dominance they have enjoyed over the past decade.
Alternative Investments & Hybrids Review & Outlook
Alternative investments were beneficial to portfolios during Q1. The Morningstar Multialternative Category posted a positive return of 2.2%, representing results from this broad group of investments. Commodities and natural resources were among the best performers as limitations in supply led to higher prices. Hybrid managers, which primarily allocate to traditional investments, generated modest losses. Meanwhile, private real estate and infrastructure were generally positive, as they remain largely insulated from inflation. Although it had been a long time since both stocks and bonds were both down meaningfully in the same quarter, the start of 2022 showed that alternatives can help provide balance to portfolios in this type of market environment.
Conclusion
As we look forward to the second quarter, it's easy to envision Dorothy from The Wizard of Oz lamenting, "We're not in 2021 anymore." And while it does appear that the tides of market volatility might be coming back in, a normal market environment is still a great time to be an investor. While large question marks on inflation and geopolitical tensions continue to grace the headlines, don't forget the many positives that exist as well, including a strong labor market, a robust consumer, and solid forecasts for corporate profits (even if the good news doesn't make the headlines).
So where do we go from here? As Yogi Berra put it, "It's tough to make predictions, especially about the future." With that level of humility, a diversified and balanced portfolio becomes the clear choice, allowing investors to benefit from good times, hedge against bad times, and be flexible enough to seize opportunities for anything on the horizon.
The statements and opinions expressed herein are subject to change without notice based on market and other conditions. The information provided is for informational purposes only and should not be construed as investment or legal opinion. Please consult a tax or financial advisor with questions about your specific situation. Investors may not invest directly in an unmanaged index. Past performance is not a guarantee of future returns.
Watch our advisors' thoughts on the investment markets here.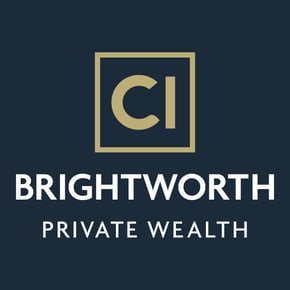 The CI Brightworth Team
CI Brightworth is a nationally recognized, fee-only wealth management firm with offices in Atlanta, GA, and Charlotte, NC. The wealth advisors at Brightworth have deep expertise across the financial disciplines, allowing us to provide ongoing, comprehensive financial advice to families across the country.