Is the economy slowing? It depends on who you ask!
Yields remain low and monetary policy is still very accommodating.
"It's like déjà vu all over again" for the stock market.
As we close out 2021, the landscape of the financial markets is one of the most unique in history. Never before have we seen a period of unbridled bullish investor sentiment, record earnings, and stock market all-time highs, coupled with job market dysfunction, massive supply chain disruptions, and unprecedented fiscal and monetary stimulus. This environment is fundamentally changing the way many investors view financial markets. How they react to it will play a major role in their financial well-being in the years ahead.
Economic Review & Outlook
Entering the final quarter of 2021, it is clear the economy has staged a strong recovery from the doldrums of last year. You can't find a single economic statistic that doesn't illustrate a sharp rebound from the depths of the pandemic lows to where we stand today. However, while many in the media are still fanning the flames of "Roaring 20s" like the economic growth ahead of us, the data behind the scenes may be telling a different story. Various forward-looking economic indicators have been rolling over in recent months as you can see from the Citi Economic Surprise Index chart. One of the most startling of these is the non-manufacturing purchasing managers index hitting a six-month low in August with numerous components surprising sharply to the downside. Looking closer at the data reveals inventories are declining alongside order backlogs, which may be concerning in the months ahead if this continues. The likely cause of this sooner than expected slowdown is simple: Government intervention is being curtailed. As the seemingly endless government programs supporting the economy over the past year roll-off, the economy is being forced to grow organically. We are about to find out if the stimulus we enacted last year created a longer-term dependency or just helped the economy bridge the pandemic-induced short-term gap.


Source: Citi, FactSet, J.P. Morgan Asset Management. All data are as of August 27, 2021.
One silver lining from the possible pause in an economic resurgence has been a moderation in recent inflation numbers. Inflation was all economists wanted to talk about last quarter, but with the 10-year treasury yield lower than it was six months ago, the bond market doesn't seem overly concerned at this point. Now before anyone declares inflation a non-threat, the job market will likely be a focus of where the inflation debate goes from here. Job seekers have the upper hand in demanding higher wages and benefits for the first time in decades. This cost pressure on businesses could push expenses up in countless industries that eventually will be passed on to the consumer. These concerns may not be widespread yet, but this is something to keep a close eye on as we enter 2022.
Bond Market Review & Outlook
Although the drumbeats touting higher interest rates remain loud, yields remained stable in the third quarter as some inflationary pressures from earlier this year have subsided. The poster child for this is lumber, which is down over 50% from its high in May, but still above its February 2020 level by over 30%, so it is premature to declare inflation fears dead. Nevertheless, an easing of inflation pressures has stabilized the bond market. Core bonds were flat on the quarter while high yield bonds delivered slight gains of 1%.
Analysts are predicting rates will rise over the course of next year, albeit modestly. Chairman of the Federal Reserve, Jerome Powell, has been consistent in his view that changes in monetary policy will be slow, suggesting removing support for current interest rates could be "particularly harmful". The importance of keeping any rise in interest rates slow and methodical echoes our longstanding view that low-interest rates remain the "glue" holding the economy together. The good news is the recent easing of inflationary pressures gives the Fed more leeway to maintain stimulus (quantitative easing) with less fear their actions will result in an escalation of long-term inflation. This should help support the bond market for as long as this remains the case.
Stock Market Review & Outlook
Despite a slight pullback to end the quarter, large cap U.S. stocks continued their climb higher in the third quarter. The S&P 500 once again was positive on the quarter returning 0.6%. Small caps on the other hand delivered negative returns, posting a loss of -4.4% as measured by the Russell 2000. Meanwhile, the NASDAQ was flat and the Dow Jones Industrial Average fell by 1.5%. Finally, international stocks lagged the S&P 500 with a minimal loss of 0.5% as measured by the MSCI EAFE.
In the words of the late, great philosopher Yogi Berra, "It's like déjà vu all over again." U.S. large cap stocks continue to seemingly defy gravity and consistently move higher, leaving most other investments in the dust. This has pretty much been the same story over and over again for the last decade. Although there is no clear catalyst suggesting this market environment will change anytime soon, we continue to remind investors that financial markets have routinely experienced unforeseen events throughout history. Remaining vigilant by emphasizing diversification in the asset classes that have lagged over the past couple of years is our top risk management recommendation right now.
As the quarter came to an end, stock market volatility escalated. The catalyst for this was a potential large-scale real estate bankruptcy in China as well as rising interest rates. Although the potential for widespread global contagion from a Chinese real estate bankruptcy seems remote, we cannot dismiss the risks due to the interconnectedness of global economies. Additionally, upward pressure on interest rates has the potential to curtail the liquidity that has been pushing financial markets higher. When interest rates rose sharply earlier this year, large cap U.S. growth stocks suffered their sharpest pullback since the depths of the pandemic last year. With interest rates once again pushing closer to this same level, some caution may be warranted if this rise continues.
Although growth stocks led their value counterparts for much of the quarter, the selloff during the final week resulted in mixed results by market cap as you can see from the Russell Style Index chart. This growth versus value leadership trend clearly remains tied to the direction of interest rates. When interest rates peaked and began moving lower near the end of the first quarter, the value stock outperformance quickly reversed. This quarter we saw the opposite occur. This strong correlation to interest rates is due to the cyclical nature of many value stocks. As the economy slowed more quickly than expected, interest rates moved lower along with stocks that are tied more closely to economic recovery. Should interest rates move higher to the end of the year, value stocks could resume leadership. This may be a tall task if the economy is left to improve on its own without additional government support.
Alternative Investments & Hybrids Review & Outlook
Alternatives had a quiet quarter. Several categories within this wide range of investments were roughly flat, like Real Assets, Hybrids, and Multistrategy funds. US Real Estate was also flat but maintains strong year-to-date performance. Commodities as a whole posted solid returns, although there was a wide dispersion of price movements within this broad basket. As inflation remains a focus for many investors, we continue to see tailwinds in Real Assets, which can benefit from price appreciation and often have inflationary measures built into contractual cash flows. The Alternatives allocation in client portfolios continues to be designed to provide diversification and generate returns across many different economic and market scenarios.
Conclusion
As we enter the final quarter of 2021 perhaps a great way to end the year is to remember the words of George Santayana, "Those who cannot remember the past are condemned to repeat it." This may turn out to be sage advice to those investors struggling with FOMO (fear of missing out). Although it can be difficult, reminding yourself that successful long-term investing has historically been boring and systematic, not focused on short term results, is exactly what we would advise. Maintaining a well-diversified portfolio has always been a prudent strategy and we see no reason why this time will be any different.
The statements and opinions expressed herein are subject to change without notice based on market and other conditions. The information provided is for informational purposes only and should not be construed as investment or legal opinion. Please consult a tax or financial advisor with questions about your specific situation. Investors may not invest directly in an unmanaged index. Past performance is not a guarantee of future returns.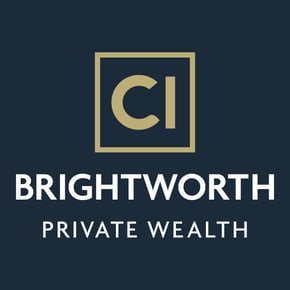 The CI Brightworth Team
CI Brightworth is a nationally recognized, fee-only wealth management firm with offices in Atlanta, GA, and Charlotte, NC. The wealth advisors at Brightworth have deep expertise across the financial disciplines, allowing us to provide ongoing, comprehensive financial advice to families across the country.