Extreme divergence between industries within the economy
Interest rates could remain at generational lows for years
Stocks deliver another impressive quarter
Entering the fourth quarter, all eyes are on the U.S. presidential election. As is the case every four years, the dire predictions of what is to come if either candidate wins are now daily headlines. Although we will hopefully have more clarity around the direction the country is headed after November 3rd, we want to remind investors that political promises and predictions are not always the way things turn out. Investors should remind themselves of this before placing too much importance on the outcome of the election one way or the other.
Economic Review & Outlook
The economy is still healing from the devastating effects of the Covid-19 economic shutdown. While the job market is recovering, through September we have only recouped a little more than half of the jobs lost in March and April. Most economists agree this was the easy part of the recovery. Now we must move into the harder part where uncertainty abounds, as the post-Covid-19 economy looks very different than the pre-Covid-19 economy. Combine this with the U.S. presidential election and you have a lot of unknowns around the recovery, as fiscal policies post-election will be heavily dependent upon the results.
One of the most common questions investors are asking right now is why the stock market appears to be doing so much better than the actual economy. This is a fair question as to the aforementioned employment statistics and economic uncertainty do not suggest a guaranteed swift economic recovery, yet the stock market is trading near all-time highs. The simplest way to answer this question is to see how the current makeup of the stock market (using the S&P 500) looks nothing like the employment of the economy.
The chart below illustrates employment by sector of the U.S. economy. Note the double-digit trade and leisure/hospitality percentages. These two industries make up over 30% of employment yet represent less than 15% of the S&P 500. Further, technology companies are difficult to categorize, but the "information" segment represents less than 2% of the jobs in this country. Even if you assume half of the business services segment is technology, it still pales in comparison to the S&P 500 weighting in technology which is anywhere from 25-35% depending upon how you categorize some large companies such as Amazon, Google, and Facebook. The takeaway for investors is to recognize the stock market is not a perfect reflection of the economy. Thus, the disproportional gains may not be as unjustified as many in the media would have you believe.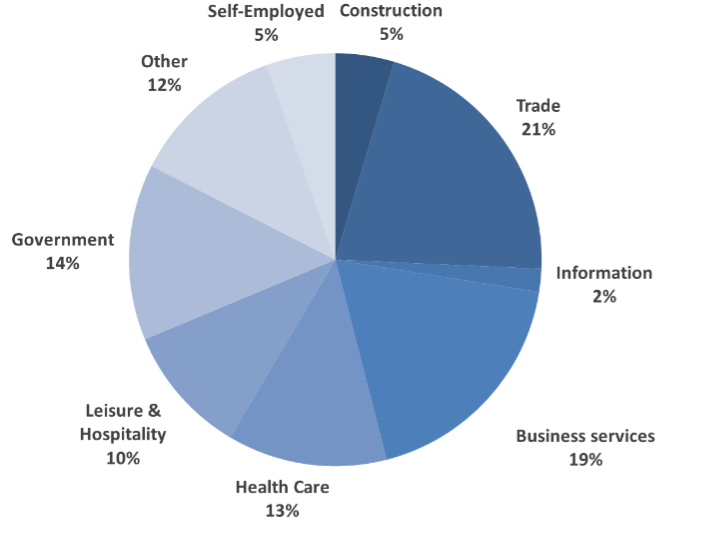 Perhaps even more important than the outcome of the election is the Federal Reserve's plan to keep interest rates low for years. They recently adjusted their mandate to target higher inflation than they have in the past. This might sound strange to the casual observer, but a lack of inflation is one of the perceived problems economists believe has slowed growth over the past decade. This should be positive for the economy in the short term to support more borrowing. The longer-term ramifications will be important to keep an eye on as the multi-trillion-dollar Federal Reserve balance sheet expansion already had some economists warning of inflation before this policy adjustment.
Bond Market Review & Outlook
Bonds delivered another positive quarter as the Federal Reserve's expectation of keeping interest rates at generational lows for years continues to provide support to the fixed income market. It was just six months ago that total panic took over credit markets sending bond prices sharply lower and spreads in the high yield sector to the highest levels we have seen since the global financial crisis of 2008-09. At their peak, high yield spreads reached nearly 11% over comparable Treasuries. They are down to 5% today. This has significantly benefited high yield bonds as they delivered a 4.6% return in the third quarter, compared to the core bond benchmark returning closer to 0.6%.
Traditional economists are concerned the extreme actions taken by the Federal Reserve to increase its balance sheet by more than $3 trillion will eventually be inflationary, ultimately leading to higher interest rates. The Federal Reserve seems to have the opposite concern as their newly implemented higher inflation target suggests they will keep interest rates low for years. Given slower economic growth and higher unemployment, the likelihood of inflation increase in the near term appears unlikely. However, the dramatic balance sheet expansion combined with a higher inflation mandate from the Fed does suggest interest rates may rise materially at some point in the future. While that could be a concern for fixed-income investors down the road, we do not believe this possibility justifies making changes to this segment of your portfolio at this time.
Stock Market Review & Outlook
For those investors wondering if the second quarter was a "dead cat bounce", so far signs are certainly to the contrary. Stocks staged another impressive rally in the third quarter, with the Dow Jones Industrial Average and S&P 500 returning 8.2% and 8.9%, respectively. Small caps (Russell 2000) returned 4.9%, lagging the large cap index slightly. Technology stocks continue to dominate as the NASDAQ Composite and gained 11.2%. International stocks did not fare quite as well with the MSCI EAFE delivering a gain of 4.8%.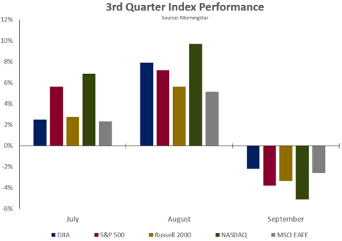 One of the most interesting facets of the rally in stocks over the past couple of months has been the skepticism of its sustainability from both professional and retail investors. The American Association of Individual Investors releases a weekly poll gauging sentiment amongst its members. At the close of the third quarter, it was nearly two to one in favor of the bears, suggesting significantly more investors are expecting stocks to decline than rise over the next couple of months. While these fears certainly may come to pass given the tremendous amount of economic uncertainty and upcoming U.S. presidential election, there are a couple of factors supporting further gains that should not be ignored.
The job market is seeing steady gains each month. Real progress appears to be occurring on the vaccine front. Another stimulus package may still be in the works. Finally, the Federal Reserve has indicated, "…there is no limit of what we can do" when it comes to supporting the economy. All of these will likely help mitigate investor fears.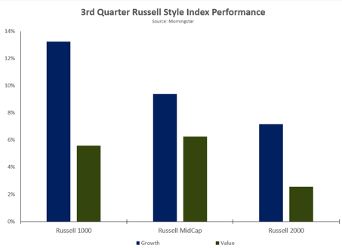 The outperformance by growth stocks across all market segments continued in the third quarter as investors' appetite for high-flying technology and healthcare stocks remains strong. One factor that seems to be supporting the recent surge in growth stock performance is the "Robinhood effect". This platform has become wildly popular with smaller investors and was one of the catalysts that drove commissions down to $0 at the major discount brokerage firms. The removal of trading fees has resulted in higher levels of trading volume amongst smaller investors. As long as market sentiment remains positive, this should keep the momentum of these top-performing stocks intact, but history suggests sentiment can change with little warning. Accordingly, maintaining exposure to value stocks remains a prudent decision for a long-term investor who wants to remain diversified.
Alternative Investments & Hybrids Review & Outlook
It was also a positive quarter for alternatives as the Morningstar Multi-Alternative category gained 2.2%. Hybrid strategies, which allocate amongst stocks and bonds, led the way buoyed by the continued rebound in equity and fixed income markets. Commodities generated strong performance driven by precious/industrial metals, lumber, and various grain products, which all saw sharp upticks in demand during the quarter. Publicly traded real estate rose modestly as re-opening progressed across the U.S. Overall, alternatives gained ground in the third quarter, and having skilled managers in this space provides additional diversification to portfolios and can help provide a buffer during volatile times.
Conclusion
As we enter the fourth quarter of 2020, we have every expectation that heightened volatility is headed our way. These periods can make monitoring your portfolio too closely detrimental to your long-term success since this is when emotional decisions are sometimes made. Remember, your portfolio is well-diversified and was built for a wide range of market conditions, which should provide you peace of mind even if additional storms come our way.
The statements and opinions expressed herein are subject to change without notice based on market and other conditions. The information provided is for informational purposes only and should not be construed as investment or legal opinion. Please consult a tax or financial advisor with questions about your specific situation. Investors may not invest directly in an unmanaged index or Morningstar Category. Past performance is not a guarantee of future returns. The specific companies referenced here are being discussed for informational purposes only and should not be considered a recommendation to purchase or sell these securities at this time.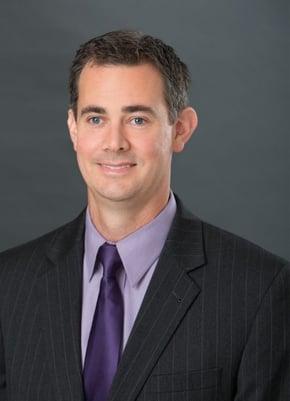 Jeffrey A. Harrell, CFA (retired)
Jeff is a retired Wealth Advisor and former Director of Portfolio Management at McGill Advisors. Jeff graduated from California State University at Sacramento with a degree in Business Administration (Finance Concentration). He formerly worked at London Pacific Advisors as a research analyst. Jeff obtained his Chartered Financial Analyst designation in 2003. He is still a member of the CFA Institute and the CFA North Carolina Society.