Thoughts on the Investment Markets – Q4 2021


Inflation: transitory or not?
Most bonds finish off a disappointing year flat for the quarter
Stocks can seemingly do no wrong
As we look forward to 2022 investors should use this as an opportunity to reflect on their current financial situation. The last few years have been truly remarkable for those fortunate enough to have a meaningful percent of their net worth invested in financial assets. However, with the economic outlook still very much unclear we advise against becoming complacent by assuming the good times will continue forever. A focus on risk management strategies such as diversification, dollar cost averaging, and rebalancing is our advice to investors as we begin a new year.
Economic Review and Outlook
As the economy continues to recover from the COVID-19 pandemic, the question on everyone's mind is whether the uptick in inflation will persist. As you can see from the chart, inflation has been rising consistently and thus far shows no signs of slowing. The 6.8% reading in November was the highest since June of 1982. The Federal Reserve has acknowledged this ongoing trend by removing their "transitory" comments from recent press releases. This has left the Federal Reserve in a very precarious position due to their stated target of 2% inflation. They have responded by tapering the level of monthly bond purchases and suggesting they will begin raising interest rates next year. Only time will tell if they follow through on these predictions, but the change in policy clearly signals an end to the ultra-easy monetary policy enacted to combat the COVID-19 pandemic.
United States Inflation Rate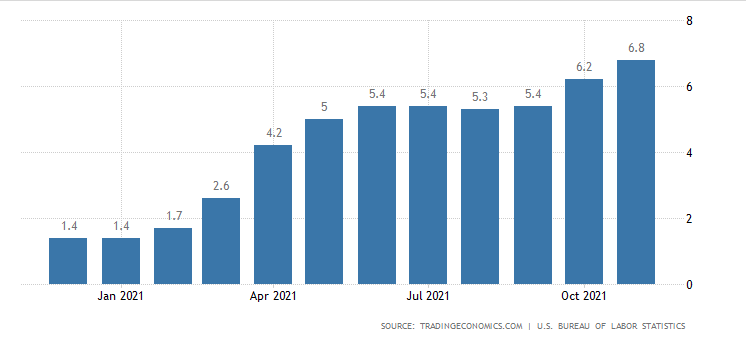 Although the inflation situation remains concerning, the higher level of expenses has not dented the outlook for corporate profits. Consensus estimates for both 2021 and 2022 continue to rise as the economic recovery continues to gain momentum. Further, the employment situation remains one of the most unique in history with jobs available to nearly anyone willing to work at pay levels much higher than pre-pandemic levels. Whether or not higher wages and expenses will ultimately take a toll on earnings in 2022 remains to be seen. Thus far it appears much of the cost pressures have been passed through to consumers as evidenced by the sharp rise in CPI previously mentioned. With the Federal Reserve tightening monetary policy and fiscal stimulus waning at the same time, the ramifications are difficult to predict. This may lead to some bumps in the road next year as the situation resolves itself, so investors may want to prepare themselves for more volatility than we saw in 2021.
Bond Market Review & Outlook
Much of the fixed income market closed out a disappointing 2021 on a sour note. Core bonds as measured by the Bloomberg Aggregate Index were flat during the final quarter and down 1.5% for the year. On the other hand, high-yield bonds returned 0.7% for the quarter and 5.4% for the year. As we have mentioned time and again over the years, this discrepancy in returns illustrates how all bonds are not created equal. Despite the disappointing year for core bonds, it is important to remember that in 2020 the same index returned 7.5%, thus over a two-year period core bonds have returned roughly 2.9%. This return is very much in line with what investors in these securities should be expecting moving forward, but not in a straight line.
The outlook for the bond market remains murky at best. U.S. Treasury bonds and core bonds tend to be the most interest rate sensitive segments of the bond market, thus a steep rise in interest rates next year would undoubtedly take its toll on these securities. Given a higher likelihood of rising versus falling interest rates in 2022 we continue to have below-average exposure to these types of bonds. Instead, we continue to prefer corporate bonds with higher yields that typically have performance tied closer to that of the economy. With the economic outlook still positive next year, we remain optimistic that this segment of the market can provide a competitive return for bond investors. However, we think it is paramount that investors understand that despite the widespread belief that interest rates will rise next year, predicting interest rates has been just as perilous as predicting the stock market over the years. The economy could perform very differently than currently forecasted in 2022, thus maintaining some exposure to core bonds is still a prudent decision for long-term investors seeking to maintain a well-diversified portfolio.
Stock Market Review & Outlook
Large cap stocks once again outperformed with the DJIA and S&P 500 returning 7.9% and 11.0% in Q4, respectively. Small caps lagged with a return of 2.1% as measured by the Russell 2000. The NASDAQ delivered a solid gain of 8.5%. Finally, international stocks continue to lag most U.S. indices by logging a return of 2.7%.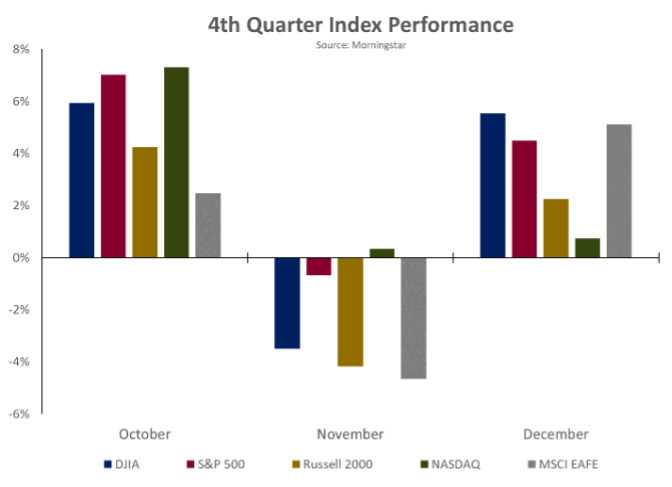 The last couple of quarters have created a very interesting environment for investors as many seem to believe stocks can effectively do no wrong. After all, if the stock market can rise double digits in back-to-back years after a global pandemic what could possibly be worse in the years ahead? We continue to see complacency rising as investors push further and further into more speculative investments in search of even higher returns. Berkshire Hathaway Vice Chairman Charlie Munger has been critical of the perpetual rising stock market suggesting, "There's no great company that can't be turned into a bad investment just by raising the price." While we will never advocate timing the market and believe investors should maintain a fully-invested, well-diversified, portfolio at all times, his comments suggest to us that despite all the optimism, risk management strategies may be more important than ever right now.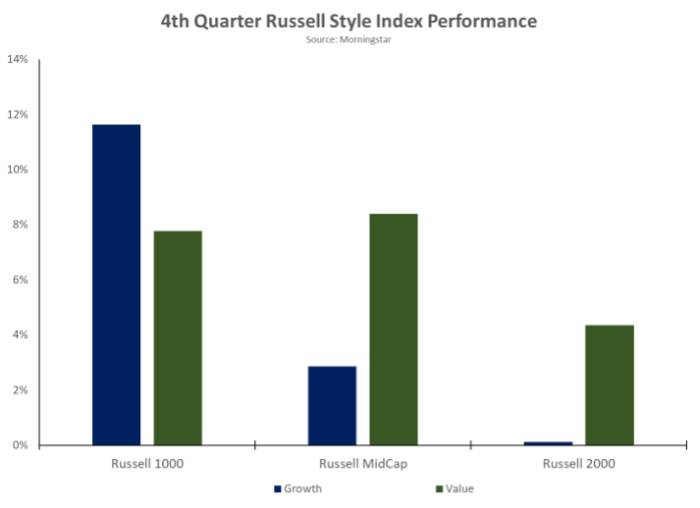 It was a rather odd quarter from a style standpoint as growth stocks outperformed value stocks within the large cap space, but the roles were reversed in the mid and small cap segments of the market. We think this dominance by large cap growth stocks simply reaffirms the continued "love affair" investors have with the top-performing names such as Apple, Microsoft, Alphabet (Google), Meta Platforms (Facebook), etc. These companies continue to be some of the biggest benefactors of the dynamic changes taking place as the world recovers from the global pandemic.
Alternative Investments & Hybrids Review & Outlook
Alternative investments wrapped up the year on a positive note. The Morningstar Multistrategy Category was up 1.4% in Q4, bringing the 2022 total return to 6.9%. Real Estate was, by far, the best performer with double-digit returns, while other real assets like infrastructure and natural resources were up 4.8% for the quarter. Commodities was one of the few areas with a negative return during Q4, primarily due to a large drop in natural gas prices. However, year-to-date returns are still strong thanks to positive performance earlier in the year. Hybrid and blended funds benefited from the rise in stocks, leading to positive returns for the category. The Alternatives section of client portfolios continues to add diversification and the potential for returns across many different economic scenarios.
Conclusion
As 2021 ends and 2022 begins, we think investors have every reason to remain optimistic about the future prospects for their investment portfolio, but we would caution against the idea that long-term bear markets have been forever eliminated. Renowned value investor Benjamin Graham once said, "In the short run, the market is a voting machine, but in the long run it is a weighing machine." Right now, the popularity of stocks is perhaps unrivaled in history resulting in an exuberant vote of confidence as far as the eye can see. However, as Charlie Munger suggested, at some point even great companies can reach prices levels that are unsustainable. So as we end 2021, we end with a final quote from Nobel Prize laureate Harry Markowitz: "Diversification is the only free lunch" in investing, and we plan to heed it accordingly.
The statements and opinions expressed herein are subject to change without notice based on market and other conditions. The information provided is for informational purposes only and should not be construed as investment or legal opinion. Please consult a tax or financial advisor with questions about your specific situation. Investors may not invest directly in an unmanaged index. Past performance is not a guarantee of future returns.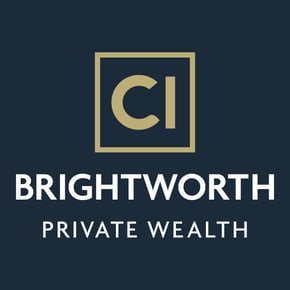 The CI Brightworth Team
CI Brightworth is a nationally recognized, fee-only wealth management firm with offices in Atlanta, GA, and Charlotte, NC. The wealth advisors at Brightworth have deep expertise across the financial disciplines, allowing us to provide ongoing, comprehensive financial advice to families across the country.