Women comprise the majority of the estimated 11.2 million widowed individuals in the U.S.
Having too little or — yes, it's true — too much cash can be a problem for new widows.
A four-point action plan includes taking inventory, prioritizing, holding off on big decisions, and developing and implementing a financial blueprint.
The days after a woman loses her spouse are often a blur. After the immediate shock, she has paperwork, funeral plans, and well-wishers to deal with. But when the flurry of activity subsides, many widows are overwhelmed by the harsh reality that the mortgage is overdue, estimated tax payments need to be mailed soon and there's a stack of envelopes from the hospital.
Suddenly, the widow has a new set of worries: Can I pay for all this? How much money do I have? How long does the life insurance take to process?
There are an estimated 11.2 million widowed individuals across the nation, according to the U.S. census, most of them women. Those who are affluent often initially face one of two financial challenges: having too little cash or too much.
The most common issue in having too little cash is lack of immediate access. Perhaps most of the family assets are in real estate, business ownership, and/or retirement plans. These assets can be sold, but the process often takes time or involves additional costs, such as paying taxes and penalties on retirement plan distributions.
If most of the family assets are in the late husband's name, the bank or custodian may restrict access until the estate is settled. When a widow has financial obligations, it's incredibly frustrating to have the wealth to meet needs but not enough access to enough cash in the short term to do so.
Believe it or not, having too much cash can also be a problem. After the estate is settled, it's possible a widow will have more cash than is needed for short-term expenses. In addition to managing the feeling that your money isn't working for you by just sitting around in cash, this is also the time you have to start dealing with people who start magically appearing in your life.
Your husband's stockbroker wants you to buy his new product, family members show up with hands extended and charities suddenly take a greater interest. Intentions aside, the deluge in unsolicited advice and attention can be overwhelming and confusing.
Here are the four steps you should take in the first year as a widow to manage cash well:
Determine how much cash is available. As soon as possible, create a list that shows the cash accounts in your name, your late husband's name, and jointly held. These accounts include checking, savings, and money market. In addition, write down the locations and balances and how you can access each account, such as by checkbook or debit card. Finally, record the regular amount of cash flowing into each account. If this proves too difficult practically or emotionally, engage a friend or family member to help you.

Prioritize your obligations. Pay the most important obligations first. These are usually your mortgage and car payments, taxes and utility bills, and insurance premiums. Those items that have more flexibility, such as medical bills, can wait until life is more stable. Make minimum payments on credit cards until you have a more intermediate cash plan in place.

Don't make any irrevocable decisions. Initially, reject the urge to make decisions that cannot be changed. People often want to pay off the mortgage or make large gifts to family or charity. Go slow and be methodical in your approach. These may be great ideas for your situation. Work with a trusted advisor that can help you weigh the impact of any decision under consideration.

Many of the widows I work with start making plans in their minds about the future. This is healthy and cathartic as they face life without their partner. Acting independently and in haste on these plans can be folly, however, and many widows have dealt with unintended negative consequences of those decisions. Give yourself room to defer making irrevocable decisions until you can do so with a clear mind.


Create a plan and methodically put the plan in place. Once you understand your current situation, map out your cash flow and balances, even as the estate is getting settled. How much cash will you need on an annual basis, over and above your regular income? Each situation is unique, but I often recommend keeping between two and three years' worth of cash in the bank – the amount needed to supplement your regular income.

For example, if your regular cash inflow is $100,000 per year and your lifestyle and obligations run $130,000 annually, keep $60,000 to $90,000 in cash — $30,000 annually for two or three years. These will be estimates, as it can be hard to know what life will be like in the immediate future. But the exercise will help you find the "right" number for cash on hand.

If you think you may be paying off the mortgage or making large gifts to family or charity, keep those in cash until the plan is formulated. Don't be in a rush to invest your cash in the investment markets. Fear of missing out is a bad investment strategy.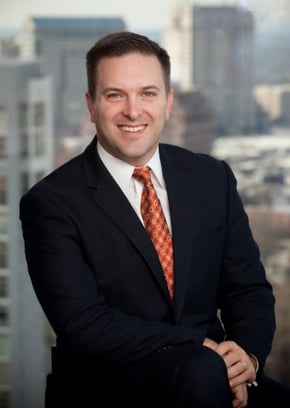 Charlie Jordan, CPA, CFP®, CeFT®
Charlie's passion for integrating retirement, estate, and charitable giving strategies provides his clients with enhanced clarity and purpose for their wealth.