I love meeting new people. I should say, I love learning about new people. I like to explore their background, their current reality, and most importantly, what drives their daily actions. One of my favorite questions takes many forms. At its core … what is your code?
As a young plebe at The Citadel, I was introduced to the concept of a code. While it takes form in words, a code inspires daily actions that represent our core beliefs. At the Citadel, we lived by a code of honor – "A cadet will not lie, cheat or steal, nor tolerate those who do." These thirteen simple words have had a tremendous impact on my life, not only during my four years as a Cadet but also during my career as a financial professional who abides by a fiduciary standard of care. Concepts like integrity, doing the right thing, acting in the best interest of clients resonate with me. They align with my code.
Codes can also be personal in nature. I am blessed with a beautiful young family. As our first child was preparing for Kindergarten, my wife and I started brainstorming how we can equip our children to be their best unique selves as they encountered the real world. We want so much for them, and at the same time, recognize that our role as parents is to give them the tools to create their own success. We realized that the best tool we could offer was to create a set of beliefs that they could apply in their daily actions. Yep, we came up with a family code! Now each morning before school, our family walks through our code together. "We live our faith, prioritize our family, treat everyone with respect, stay humble, and enjoy this amazing life."
My question for each of you… what is your code? Do you have a driving set of principles that inspire you, your family, and your team to be the best versions of themselves? Perhaps you are a few simple words away from creating a belief and inspiring actions that will empower you to be your best.
Onward!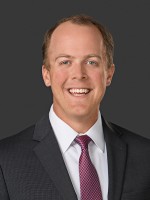 Brett S. Miller, CPA, CFP®
Brett is Partner in Charge and Wealth Advisor at CI Brightworth. Brett graduated from The Citadel with a degree in Business Administration (Accounting Concentration).