When a bull market turns into a bear market, it can be hard to know what to do. Take comfort in the guidance of 10 financial professionals.
CI Brightworth's Don Wilson was recently quoted on Kiplinger.com. Check out his contribution below:
"I would encourage investors to review their short-term investments and consider opportunities the rise in rates have created.
Interest rates have risen sharply in a short period of time, giving investors a much better return opportunity on short-term Treasury bonds and certificates of deposit than just a few months ago.
For example, rates have likely increased for people with funds in a money market or a bank account. However, those willing to forgo immediate liquidity can earn substantially higher interest rates by buying Treasuries or certificates of deposits with maturity dates between two months and two years.
As of June 17, the yield on a two-month U.S. Treasury bond was 1.50%, jumping to 3.17% for a two-year bond. Investors may want to create a bond ladder by buying Treasuries or CDs over multiple maturities based on their liquidity needs.
Another tactic is to use this downturn to rebalance your portfolio by selling asset classes that have held up best and buying those classes hardest hit. For example, this could mean selling investments in some commodities and real estate while picking up high-quality stocks that have been hit hard. Use this to bring your portfolio back to its target weights.
Finally, reduce your potential year-end tax bill by selling positions with losses. You can replace these with similar investments or buy them back after 30 days. This move enables investors to offset the taxes owed on capital gains elsewhere in their portfolios. The result is that less of your money goes to taxes and more may stay invested and working for you."

Don Wilson is a partner and the chief investment officer at CI Brightworth. His primary roles are developing the overall investment strategy for client portfolios, leading the investment research and portfolio management team and chairing the Investment Committee.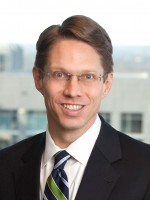 Don Wilson, CFA, CFP®
Don combines his passion for investing, intellectual curiosity and analytical framework to build investment strategies to help our clients grow and preserve their wealth. He joined CI Brightworth in 1998, and he currently serves as the chief investment officer. Prior to his current role, Don served as a research analyst, portfolio manager, and director of portfolio management for the firm.