After its mission launch from Cape Canaveral Space Force Station on July 30, 2020, the Perseverance rover successfully landed inside Mars' Jezero Crater on February 18, 2021, following 293 million miles of travel. The rover's mission is to collect samples over the next two years to better understand the planet's past climate and geology. NASA's total budgeted price tag for the mission is $2.7 billion of which most was dedicated to the spacecraft and equipment.
Ahead of the landing, Thomas Zurburchen, associate administrator for the Science Mission Directorate at NASA Headquarters, said the Perseverance's landing was "the most challenging Martian terrain ever targeted for a landing." In the past, only about 50% of all landing attempts on Mars have been successful, so Perseverance's landing was certainly an accomplishment for the team behind the mission.
While your retirement may not have the same price tag, mileage, or objective as the Perseverance rover mission, there are a few crucial components for a successful landing into retirement. Here are a few to keep in mind:
Aim for an Attainable Target
It's one of the hardest exercises for retirement planning, but gathering your best guesses on how much you think you will spend in retirement will provide you with critical direction toward an intended destination. There are many calculators and methods such as the 4% withdrawal principle that illustrate how much in portfolio assets you may need to aim for based on your lifestyle target. Having spending context provides necessary clarity in so many retirement planning decisions, such as how much you should keep in cash, a prudent investment allocation, and your required level of portfolio assets to sustain your income stream.
Understand the Factors That Could Change
The climate in which you plan to retire could have an impact on your landing depending on your prior preparation and your unique situation. For example, in an economic downturn, many people may find they need to keep working a few more years, while others may realize that a job loss may be a welcoming entry into retirement. Additionally, retiring at stock market peaks could mean resetting your expectations on spending especially in the earlier years. Keeping debt levels low, having sufficient cash on hand, and having the proper balance of investments in different types of retirement accounts can all help ease the pressure leading into retirement.
Plan Ahead for Your Time
Many people understandably and correctly put a lot of time and energy into making sure their finances are in proper order as they prepare for retirement. While these financial exercises are crucial, it's incredibly important to create some framework on how you plan to spend not only your money but your time in retirement. This step includes asking questions such as: What will my time in retirement look like with my grandkids? How much would I like to travel? How could I volunteer my time and expertise to help others? Is now the time for me to start that business that I've been dreaming about? Being able to look forward to your newly found time in retirement could make the transition even more fulfilling.
Give Yourself Time to Adjust
The Perseverance rover entered the Martian atmosphere at a speed of over 12,000 miles per hour, however, it landed on the planet's surface at the pace of human walking speed. For many people leading right up until the moment of retirement, it may seem a bit chaotic and too fast. Knowing how to adjust properly and in the right way is such an important facet going into retirement. The answer is not the same for every person, but it may mean scaling down over a period of months or even years if your job allows. And this may include steps as simple as getting the proper amount of exercise and sleep. Managing your stress levels when a lot of decisions are being made during this stretch of time such as pension elections, health insurance selection, and investment adjustments is crucial for a better and more fulfilling outcome.
The Perseverance landing and mission provide some surprisingly relevant lessons for those who are contemplating a transition into retirement soon. As you enter into an unfamiliar and changing environment like retirement, keep in mind some of these foundational principles as you prepare for the journey into this next phase of life that can bring a lot of enjoyment and fulfillment for many.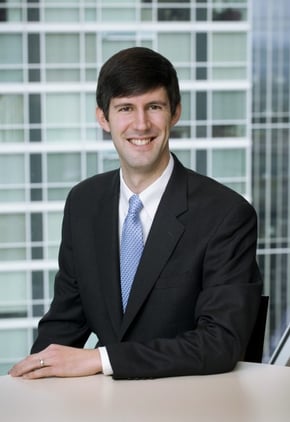 Chase Mouchet, CFP®, CIMA®
Chase brings thoughtful listening and planning skills and a devotion to maximizing the impact of wealth for our clients. Chase joined the Brightworth team in 2015 as a financial planner, having previously worked at two independent financial planning firms. He is passionate about helping clients simplify their financial lives and maximize the impact of their wealth, particularly through charitable giving.