Labor Day signals the traditional conclusion of summer. Temperatures decline, the swimming pools close, and the last students head back to school. For many, it is a transitional time of year to reflect on a fun summer and then get back to business, refocusing on their annual goals and priorities.
Well… the spring and summer of 2020 have been anything but traditional. The world was shaken in early March with the onset of a Covid-19, causing a figurative "earthquake" that shook the very fabric of our economy and way of life. As we guided clients during the ensuing shutdown, almost all were impacted in one way or another and made at least one change in their financial situation based on the need to address unplanned outcomes. As we now prepare for the fall, it is important to identify the associated "tsunami" that is now making its way toward shore. The cascading impacts of the financial decisions made during Covid, if left unaddressed, could create potential problems later this year and as such, we want to reach out early with a warning signal. This is part one of a two-part series where we will walk through six important financial items to proactively review six months into Covid-19. Now is the time to prepare and empower good decision-making heading into the fall.
Wages, Withholdings, and Qualified Retirement Plan Funding
To conserve cash flow, many clients reduced their wages, withholdings, and retirement plan contributions at the onset of the Covid shutdown. For those small business owners who were able to obtain Payroll Protection Program loans, many resumed their payroll but often at lower levels during the eligible window to meet the appropriate forgiveness provisions. While the impact of reducing wages for a period of time may not seem significant, several cascading impacts need to be considered:
Wages – A reduction in compensation can have a negative impact on your retirement plan benefits. Profit-sharing and/or pension plan benefits are calculated as a percentage of wages. A reduction in wages can reduce your benefits for the year and can also result in higher staff benefits than anticipated.
Salary Deferrals – For 2020, the maximum deferral limit is $19,500 ($26,000 for over 50). Deferrals are generally required to be deposited during the calendar year. We would recommend reviewing your paystub to ensure you meet the desired target by year-end.
Taxes – Business owners often pay federal and state taxes through their payroll withholdings. A reduction in wages could significantly reduce your planned tax payments and leave a large tax surprise in early 2021.
For those with qualified retirement plans, the same principles mentioned above apply. Now is a great time to review your year-to-date funding of safe harbor, profit sharing, and cash balance contributions on a goal versus actual basis. While qualified employer contributions are technically not due until 2021 (the due date of the return plus extensions), we would recommend acting now to avoid falling further behind on these important contributions and find yourself in a cash flow pinch in early 2021 when both taxes and retirement plan contributions are due.
Personal Cash and After-Tax Savings
One of the most common changes at the onset of Covid was to put a temporary hold on personal, after-tax savings. Concerns over the unknown justified the human desire for safety and security, resulting in the pooling and holding of above-average levels of cash. Unfortunately, the markets did not reward long-term investors for holding cash through the short and ever-evolving Covid market cycle, as the markets quickly rebounded and had their best 100 days in history. As we look forward to the fall, we find that investors are now stuck wondering what to do with their excess levels of accumulated cash. They are equally paralyzed by the indecision of anticipating needing cash in the short term due to a resurgence of Covid and the concern of investing their excess cash now that the markets have recovered. To avoid the long-term impact of being stuck in this Catch-22, we recommend using this opportunity to reevaluate your liquidity needs. Holding onto a reasonable position in cash or short-term liquidity instruments, like a home equity line of credit, can create the safety that investors seek, without jeopardizing the long-term benefit of compound earnings from future anticipated investment growth. Once the appropriate levels of liquidity have been established, a recommended strategy is to resume personal, after-tax savings via dollar cost averaging at a rate that works down the excess cash over a reasonable period.
Charitable Gifting
A unique impact of Covid has been the increased level of philanthropic and charitable contributions. Donors have been seeking ways to support local charities, community organizations, and support the many sources of good that are needed during this period of time. In one situation, we had a client contact us to find the best way to support a local community organization that was providing rent and utility assistance to the members of their community. It just so happened that this same client also had an oversized position in trending security that we were looking to pare back, which created a fantastic charitable planning opportunity. Instead of gifting cash, the client was able to gift a portion of the appreciated security. This achieved several goals simultaneously – the client was able to support their local charity, they saved on future capital gains from the growth of the security, and they were able to direct the cash they were going to gift back to their portfolio wherein we were able to use that cash to diversify and purchase new security in its place. For investors seeking to pare back appreciated positions in their portfolios and support their charities of choice, now is a great time to take advantage of gifting of appreciated securities.
Please tune in next month where we will cover our three remaining topics!
The information provided is for informational purposes only and should not be construed as investment or legal opinion. Please consult a tax or financial advisor with questions about your specific situation.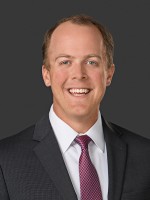 Brett S. Miller, CPA, CFP®
Brett is Partner in Charge and Wealth Advisor at McGill Advisors. Brett graduated from The Citadel with a degree in Business Administration (Accounting Concentration).