On October 3, 1863, during a deadly Civil War, President Lincoln called for the last Thursday in November to be recognized by our nation as a day of thanksgiving and praise. In his proclamation, President Lincoln reminded the citizens of the United States of their many blessings and honored their many accomplishments. The tradition of Thanksgiving dates back much further, but we wanted to call your attention to this particular date because many parallels can be drawn to the current situation in our nation. As was the case in 1863, our country is divided, there is civil unrest, and we are in the throes of a deadly war with COVID-19.
It can be easy to lament all the unfortunate events impacting our country and our personal lives but doing so only exacerbates the problem and adversely impacts our physical and emotional wellbeing. Stress causes your body to produce toxic neurochemicals, like cortisol and adrenaline, which can lead to disease and health-related issues when overproduced within the body. One of the most effective methods to combat negative emotions is to express gratitude. In fact, practicing gratitude has been proven to promote positive and lasting results on our physical and emotional wellbeing. Studies show that gratitude has been found to not only produce the "feel good" neurotransmitters, like dopamine and serotonin, but it has also been proven to reduce toxic stress hormones like cortisol.
Fortunately, practicing gratitude does not have to be difficult! Harvard Health outlines 6 easy ways to cultivate gratitude:
1. Write a thank-you note
2. Thank someone mentally
3. Keep a gratitude journal
4.Count your blessings
5.Pray
6.Meditate
Two professors at Indiana University
conducted a
study
that
concluded simply writing a
t
hank-
y
ou note, even if it is never sent to the intended recipient,
still ha
s
a positive impact on the
author. As such, the benefits of practicing gratitude
, they concluded,
are not dependent on
the actual outcome of the letter.
Moreover, they found that
"it was the lack of negative emotion words- not the abundance of positive words- that explained
the benefits of
writing the "
g
ratitude
l
etters"
.
With this in mind, we hope you focus on all the positives in your life this holiday season. Just as President Lincoln called for our nation's people to "acknowledge as with one heart and one voice" all their blessings, all of us at McGill Advisors want to thank you in a unified voice. We are grateful for the opportunity to continue serving as your trusted wealth advisors. Thank you for the patience, compassion, understanding, and encouragement you have extended to our team during a difficult year. Thank you for the work that you do and the impact you have in your communities. We hope you take time this holiday season to honor your accomplishments, acknowledge others, and be thankful for the many blessings in your life. Most importantly, don't forget to thank yourself!
We would love to hear what you are grateful for this holiday season. If you want to share, please let us know by sending us an email at info@brightworth.com.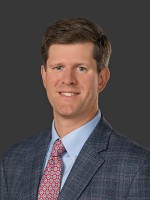 Thomas Farmer, CFP®, C(K)P®
Thomas is a Wealth Advisor at CI Brightworth. Thomas graduated from The University of the South in Sewanee, TN with a bachelor's degree in English and a concentration in Economics.