Over the last several weeks, The TBOTA team hosted two very successful events for clients, prospects, and advisors. The events were designed to bring awareness to business owners and advisors of the in-depth educational and consulting work performed by the TBOTA team.
Our first event was at the Porsche Driving Experience in Atlanta. We hosted 20 business owners and advisors for lunch, test track rides, and simulator racing. A good time was had by all, and we were able to talk with owners and advisors about building better businesses and some of the intricacies of maximizing the opportunity to achieve an ELITE exit. Look for more of these types of events in the future.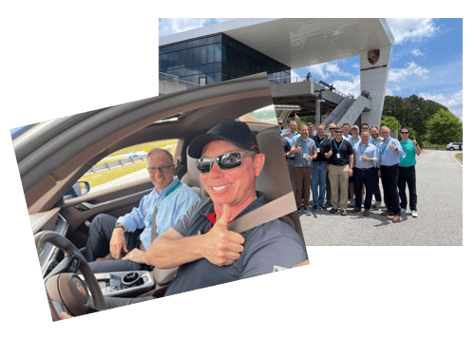 Our second event was held at the Buckhead Club. During this event, we hosted 50 business owners for a lunchtime panel presentation featuring Michael Gossling and Philip Gossling. Michael and Philip are the former owners of DoMyOwn.com. Michael and Philip participated in our 5-phase exit planning process which culminated in the successful sale of DoMyOwn.com to Central Garden and Pet (NASDAQ: CENT, CENTA). Michael and Philip, along with Mike Sullivan from Taylor English Duma, Jeff Saylor from HLB Gross Collins, and Dave Chambless from Abraxas business services participated in a panel discussion moderated by Mike Quinlan. It was a lively discussion, and Michael and Philip detailed their experience through each of the five phases of the process. The five phases include:
Assessment of the owner and the business readiness for sale
Documentation of written recommendations
Coaching and mentoring and value driver improvement
Pre-sale due diligence, marketing, and selling processes
Post-sale implementation of wealth strategies developed during the process
We will be hosting another lunch event on October 4th, 2022 where we will detail the experience of a business owner who responded to an unsolicited offer by a strategic buyer who wanted to expand market share in the space. Ronnie Kent, the former owner of Associated Paper will tell his story. Ronnie navigated this transaction without using an M&A advisor and asked TBOTA to help him build a team to negotiate the Letter of Intent and guide him through the sales process. This culminated in a successful transaction with BradyIFS. We will be sending announcements and invitations to this event soon.
Mike Quinlan
As The Business Owner Transition Academy (TBOTA) Managing Director, Mike Quinlan has over 30 years of military aviation and business experience and is an expert in helping owners prepare for business transition.