When you get in a bind and need cash quickly, consider all your lending options before selling your investments. Investors are not often aware they can borrow from their investments by establishing an "asset-backed line of credit", also referred to as "securities-based lending" or "pledged asset line" (PAL). An asset-backed line of credit gives investors the ability to use personal after-tax investments as collateral for a line of credit, often at competitive rates.
Recently, I worked with a couple that was looking to purchase their dream retirement home. They had been searching for years and finally found the perfect fit. The only problem was they were not quite ready to sell their current house. They were in the middle of remodeling their kitchen, which was still months from being complete. They knew the home would not stay on the market long, and they needed more than a "contingent" offer to be competitive. They discussed liquidating their taxable account, which at the time was slightly over $1 Million, because they needed to move quickly and didn't want a mortgage. However, they were disheartened to hear they would owe more than $100,000 in capital gains taxes.
Fortunately, they had another option and I introduced them to the Pledged Asset Line, which we utilized as a bridge loan to provide the necessary funds to purchase the home. Once the remodeling was complete and the home sold, they used the proceeds to pay off the outstanding balance of the loan. The interest cost for the four months the loan was outstanding was a fraction of the capital gains taxes they would have had to pay if they sold their investments. In fact, they saved over $90,000 by not selling their investments and the portfolio continued to grow during that period!
As defined by Charles Schwab, a Pledged Asset Line is "an uncommitted, non-purpose securities-based borrowing solution that allows individuals to leverage eligible assets in their investment portfolio as collateral for a secured loan". Essentially, investments are used as collateral to establish a revolving line of credit. You can use the loan proceeds freely, other than to purchase more securities or pay down margin loans and have flexible repayment options.
Individual, joint and certain trust account registrations are collateralized and converted to a "pledged account". IRAs, including Roth IRAs, Qualified Plans, and H.S.A. cannot be used as collateral for a loan and are not able to be converted to a pledged account.
Next, the bank will determine how much they are willing to lend you based on the actual investments you hold in your accounts. For example, lenders may lend up to 90% on certain bonds/cash and >50% on individual stock positions. The more stable the investments, the more banks are willing to lend you. Banks often require a minimum credit line to be established, as well as a minimum draw, in order to approve the loan. After the initial draw, subsequent draws can be made for lesser amounts and up to the maximum amount approved by the lender.
The interest rate is typically tied to a benchmark rate, like The WSJ Prime Rate or 1-month LIBOR (London interbank offered rate), plus an interest rate spread. The interest rate spread can vary depending on the value of your portfolio, so be sure you understand how the rate is calculated. Because rates are currently low, lenders may impose a minimum interest rate, called a floor rate.
When you are ready to start paying down your loan, you can do so by writing a check, ACH, or wire. You can even direct the interest and dividends generated from your portfolio to help pay down the loan! If you are treating the line of credit as a short-term bridge loan and are planning to pay the loan off in a lump sum, you can simply choose to do nothing and let the interest payments capitalize (add to the outstanding balance).
As is the case with everything, there are certain risks to consider before applying for a Pledged Asset Line.
Before tapping the full line amount, you need to understand the potential for your investments to lose money. If your account balance drops below a certain amount, the lender may require you to make a lump-sum payment. Keep in mind, the lending authority also holds the right to sell securities within pledged accounts without consent or notification. If you are unable to come up with the funds to pay down the loan, the lender may be forced to sell your investments, which could cause unforeseen tax consequences. In addition, the borrower has no ability to determine which securities are sold.
In addition, it is not as easy to take money out of a pledged account. If you would like to remove money from your account that is not being used as collateral, you need to get approval from the lender.
Lastly, minimum interest payments are due on a monthly basis, and investors may incur additional fees for late or missing payments if the interest is not capitalized.
Pledged Asset Lines are a complex strategy used to help investors take more control over their financial situation. In most cases, PALs work well as a short-term credit line to help cover major purchases. They are mostly meant to be repaid quickly, giving people the distinct advantage of keeping their investment positions in place.
If you are unsure or would like to go more in-depth on how best-Pledged Asset Lines can be utilized, speak with your wealth advisor.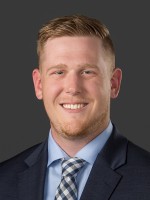 Jason Rogers
Jason is a Wealth Planner with CI Brightworth. He graduated from Gardner-Webb University with a degree in Business Administration and is currently pursuing his master's degree in Wealth and Trust Management.