"Using wealth helps me take ownership of my money decisions." – Krysta Jordan
In the Retiring Well framework, Planning for Retirement is comprised of self-assessments and exercises designed to (1) envision life in retirement, (2) plan for how to spend your time, (3) craft an initial blueprint for how to use your wealth and cash flow to improve your life in retirement, and (4) ensure your wealth is positioned effectively for your retirement.
Today, we will focus on Using vs. Spending Wealth. How can you intentionally focus the use of your wealth on improving areas of your life?
After 20+ years of providing financial advice, it is clear to me that cash flow management, both before and after retirement, is the most impactful factor of financial success. If you save enough before retirement and take prudent distributions, you will likely reach your stated financial goals.
As you plan for retirement, it is critical that you fully understand your spending. It is not a task most enjoy. Ignorance of what you are really spending is the blissful state preferred by many. Truly uncovering your spending can be an anxiety-inducing experience. Consider, however, how you will utilize your wealth rather than simply what you are spending. This is a subtle psychological trick that can bring a higher level of life satisfaction, prioritization, and reduced anxiety around your cash flow.
I credit my wife, Krysta, for introducing me to this idea. She would admit being a frugal spender, driven by a concern of spending "too much", which she would feel is irresponsible. As she has been faced with the increasing costs of a growing family, Krysta has had to figure out a way to address this tension head-on. She began to see our family's money as a tool to be purposefully used to bring us joy, satisfaction, and long-term financial freedom. I would still call Krysta a frugal spender, but she now sees the utilization of money, whether in our daily living or our strategic giving, to be purposeful and even joyful.
For those entering retirement, the first two to three years are a difficult transition. During this phase of retirement, you will likely be living differently than when you received a paycheck. What you knew as your regular spend changes and the bucket list isn't free. This can make people feel out of control with their spending and lead to anxiety around actually enjoying their retirement.
During this time, give yourself grace as you normalize to a new way of life. After you settle in, think about how you can utilize your wealth to improve areas of your life and build those into your financial plan. By reframing how you think about your spending, you can reduce anxiety, prioritize your use of wealth, and focus on the things that matter most to you.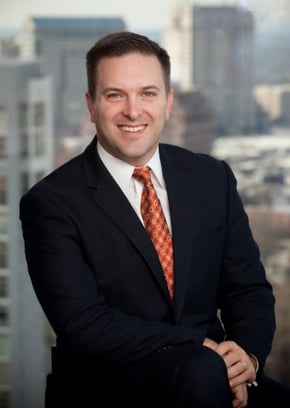 Charlie Jordan, CPA, CFP®, CeFT®
Charlie's passion for integrating retirement, estate, and charitable giving strategies provides his clients with enhanced clarity and purpose for their wealth.