What was supposed to be the year of recovery ended up being the year of volatility.
Between the stock market, the global economy, and the COVID-19 Delta variant, 2021 has been a year filled with unplanned surprises. One of the biggest stories in recent news has been the drastic increase in inflation over the last year. As of writing, the Consumer Price Index has climbed 6.2% since last year due to multiple factors such as supply bottlenecks, energy prices, etc. And while there is an unpleasant stigma surrounding inflation in today's society, opportunities are available to help combat it.
One of these strategies relates to the IRS rules governing retirement plan limitations. In November, the IRS announced its newly adjusted retirement plan limits for 2022 to account for the annual increase in the cost of living. Adjustments in several areas should be noted as they pertain to your practice and more specifically your current payroll procedures. However, before we can take any direct action, we need to first analyze and understand the new limitations set forth. In the table below, we highlight the most important and relevant revisions the IRS has decided to implement regarding retirement plan limits in 2022:
TYPE OF PLAN

2022 LIMIT

2021 LIMIT

Defined Contribution Plans (e.g., 401(k), 403(b),

SEP IRA)

$61,000
58,000
401(k), 403(b), 457 Plan Elective Deferrals
$20,500
$19,500
Cash Balance Maximum Lump Sum
$3,150,000
>$3,000,000
SIMPLE IRAs
$14,000
$13,500
Traditional / Roth IRAs
$6,000
$6,000
Maximum Considered Compensation
$305,000
$290,000
It is important to note that all catch-up contributions for retirement plans will remain the same in 2022. The current rules allow you to contribute an extra $6,500 for Defined Contribution plans and $1,000 for Individual Retirement Accounts (IRAs) once you attain age 50 and above.
Now you may be asking: "How do these changes relate to my financial situation or my practice?"
Primarily, the changes above directly impact your investment/tax savings opportunities. For example, if you are currently maxing out your 401(k) contributions (between deferrals, safe harbor, and profit-sharing), you now have an additional $3,000 you can contribute pre-tax to the plan. While this may not seem like a sizeable increase, this savings adjustment will allow you to keep up with inflation while simultaneously taking advantage of the compound interest effect (i.e., the more money saved today, the quicker it will grow exponentially over time). The IRS also increased the maximum considered compensation limit, which is an important factor for retirement plans, to $305,000 for 2022. Generally speaking, it is important to take advantage of this increase as it allows you to maximize your retirement benefit while reducing the plan's overall funding costs.
Another example would be for those looking to implement or revise a Cash Balance plan in the next year. Under the new IRA limits, Cash Balance plans set up in 2022 will account for an additional $150,000 on the maximum lump sum payout option. This may seem obscure, but similarly to our 401(k) example above, these annual increases should be taken advantage of to ensure you keep pace with the rising cost of living while enabling compound interest to take effect. Not to mention, any increase in your Cash Balance plan savings will directly reduce your practice's business income for the year and thereby decrease your total tax liability.
From a practice standpoint, there are several things you can do to ensure the upcoming retirement plan changes are accounted for in your game plan next year.
Firstly, communicate with your financial advisor to determine whether you can take advantage of the newly increased plan limits. These professionals will be able to prudently analyze your financial situation and determine a retirement saving strategy that best fits your needs. Once you have a plan in place, you should be actively communicating any upcoming changes with your payroll manager well before the end of 2022. Getting the ball rolling early will be paramount for ensuring your retirement planning goals are properly accounted for. The last thing you want is the headache that accompanies last-minute reconciliations of your payroll come year-end.
In summary, the IRS typically expands retirement plan limits to absorb any increases in the cost of living so that your current retirement savings can adequately provide for your needs once in retirement (where the cost of living is expected to be higher). If you have the ability to save an extra $3,000 to your 401(k) plan or increase savings to your Cash Balance plan, you should not let that opportunity go wasted. After determining the optimal retirement plan strategy with your financial advisor, plan to communicate the game plan early on with your payroll manager. The earlier the game plan is established, the greater the chance of miscommunications and future stresses being avoided.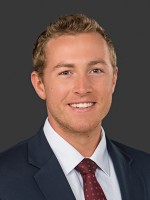 Andrew Kobylski
Andrew is an Associate Wealth Advisor with CI Brightworth and has been with the firm since 2020. Originally from the Northern Virginia area, he attended Virginia Tech and graduated Summa Cum Laude with a degree in Finance under the CFP® Certification Education Option. He obtained both his CERTIFIED FINANCIAL PLANNER™ and Certified Investment Management Analyst® designations in 2021.